Well, it took an entire week but I finally got the brakes finished.

All the parts mocked up, OH IT'S SO EASY THIS THING SHOULD JUST FLY IN

I spent $120 at the drop of a hat on these. They're DOT-legal so when they find my charred corpse at the bottom of a steep ravine my family will get cash money

No I'm not selling these as a kit. The parts top to bottom are 1977 320i rotors, new oil seals, '81-'83 320i hubs, lug studs, lug nuts, 1987 Volvo 240 4-piston Girling calipers, Precision Lines stainless braided brake flex lines. The lug studs are from Ireland Engineering and they're awesome for this, they have just the right amount of thread before the shoulder for putting it into the hub.

Installing races and lug studs.

This is where the problems begin: I stripped the hell out of the fastener on a hardline. Luckily the whole line is about 14″ long and the master cylinder is literally just behind it. I also learned by doing this that European cars don't use double-flares like American cars do (duh) so I had to either find a shop that had an ISO/"bubble" flaring tool, or buy one myself. Somehow I could not find a shop with one so I bought one for $20. Luckily it wasn't a piece of garbage and worked fine.

Rotor and hub on the spindle and ready to go.

Almost done hooray

FUCK. This happened literally as I was trying to move the car outside for the night. These wheels won't fit, even with 2 spacers. I may try find what the clearance is with the old calipers to grind off a little bit of the Girlings, but right now I know that from the center of the hub to the furthest edge of the calipers, that the Girlings are 1/2″ bigger – not good.
But I had to press on.

Okay I'm done for serious now. The radiator clamps on the strut body are for a bracket that keep the hardlines going from the caliper to the flex lines from moving around.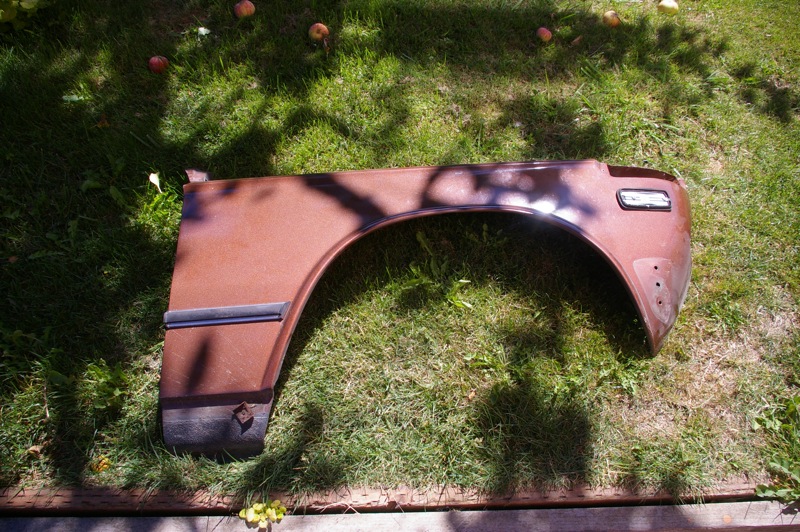 This should hint at what the next project will be, and I don't look forward to it (no I'm not going to put flares on the thing). 🙁