Ah, here comes the frustration…

I had a little bit of speedometer cable left from the junkyard, so I thought I'd make a plug out of one before filling the box with fluid so it wouldn't puke it everywhere.

A couple strokes with a file and I got rid of the peened-in retainer to keep the cable from sliding around/collecting foreign particles.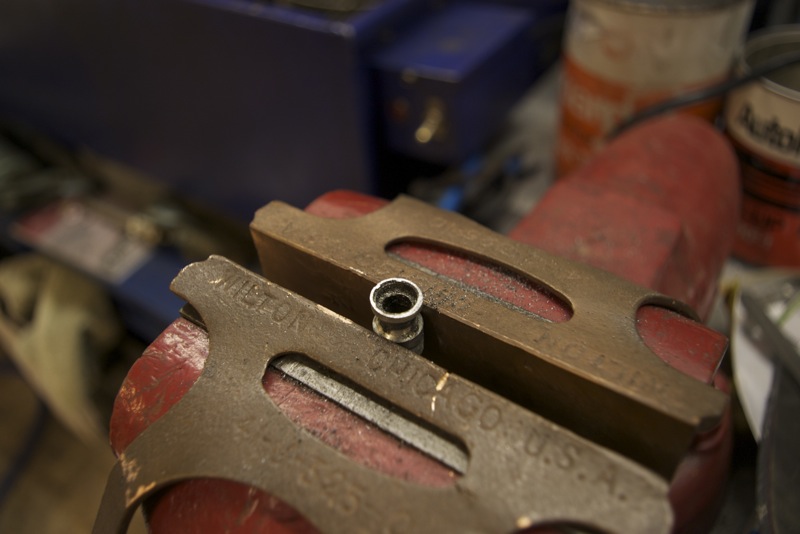 Perfect, now to fill it with RTV.
Now to more serious work:

The crossmember brackets are in and the transmission's resting on the crossmember for the first time in this car! One side needs to go down a little bit so I'll probably just remedy that with a washer or two. The shift platform is in as well, but I realized a couple of days ago that the diagonal brace that holds up the back of the platform interferes with the crossmember. So to fix this problem, I plan on drilling a hole in the crossmember, mounting the bracket to it, and having the brace go to the crossmember. It won't be ideal, as the shift platform now won't be mounted solely to the transmission, but the mount I'm using is thick enough that the trans shouldn't move too much, and BMW did it from the factory by mounting the platform directly to the tunnel so I don't feel too bad about it.

This, however, I feel pretty badly about, and I'm pretty pissed off. It may be hard to see, but the driveshaft, installed at the diff and center bearing like it would be, is .41″ short of the guibo on the back of the transmission. I specifically told the driveshaft shop that from the diff flange to the back of the guibo it was 59 9/16″, so I'll take it out in a little bit and get the actual measurement of the driveshaft. In any case, the guibo definitely won't deflect that much to make it useable, but I'm relatively certain that there's some adjustment to be made in the position of the engine and the diff.
I feel like this project is going to take way longer than I ever thought it would.