I know that this looks like garbage but I was pretty frustrated at this point. Wired up the reverse lights, they worked for a little bit and then they went out. After checking the wiring and cleaning out the grease-filled terminals I found that the fuse was blown. Replaced it and only the right side light came on. Discovered after shorting the wires to the switch together that the other bulb's base was just a little corroded. Then found out that one of the spade terminals going to the switch was cracked, and replaced it. After that neither light turned on so I'm pretty sure I now have a blown reverse light switch. :\

I got a distributor rotor from A1 Imports Autoworks in San Rafael, they do tons of cool 2002 projects and general maintenance. They had a real factory 2002 turbo and about 7 other '02s there, a DeLorean and a few other cool cars in the shop.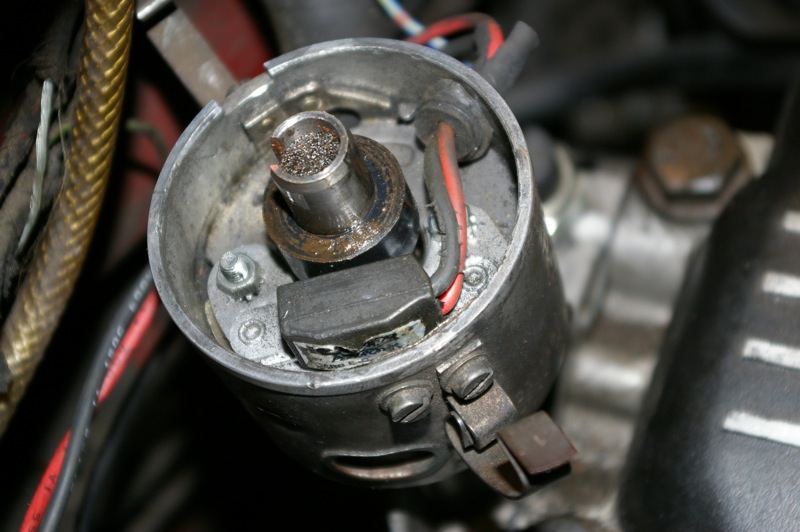 Remember how my pertronix almost died? Yeah.

Retiming the car

Yay! Not quite a mountain road but the car moved here under its own power! The burning gear oil really wasn't too bad, I didn't want to risk messing up the paint on the header with brake cleaner so I didn't clean it that way.
Things that don't work:
-reverse lights
-speedometer (I was expecting this since I don't have the right cable)
Things that do work:
-the transmission
I didn't drive it too much tonight so I don't know how it handles now with all those polyurethane parts but tomorrow I'll update 🙂